Addiction has been called the spiritual disease of our time. The denial of alcoholism — as well as drug abuse and other more stigmatized forms of addiction — within the Jewish community is complicated by many factors, including affluence in some quarters and insularity in others.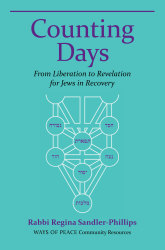 Recent decades have seen a renewal of interest in Mussar (spiritual discipline) among Jews of diverse backgrounds, and countless Jews across the denominational spectrum have also found healing through the Twelve Steps of recovery. WAYS OF PEACE offers specialized support for Jews in addiction recovery, their family members and friends through an integration of Mussar and Twelve Step spiritual principles.
COUNTING DAYS: From Liberation to Revelation for Jews in Recovery guides readers through the season of spiritual preparation between Passover and Shavuot with daily reflections on Twelve Step principles, integrated with classical Jewish teachings.
"Thank you for your generous work with [recovering Jews]. ...Your warmth, caring, and teaching are always appreciated, and your...[retreat] participation on the 'Rabbis' Forum' was outstanding."