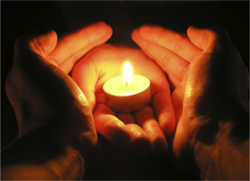 Our Hebrew word for funeral means "accompanying." The timeless Jewish values of sustainability, simplicity and equality, presence and consolation are all embodied in this accompanying.
We are called to show up and accompany each other from illness and disability, through dying, to death and bereavement "...for these are WAYS OF PEACE."
WAYS OF PEACE services for comforting the dying, honoring the dead and consoling the bereaved may include:
Home, hospital or hospice visits
Deathbed support
Consultation for making gifts of the body
Advocacy for

sacred care of the dead

Funeral officiation and final vigil-keeping / cemetery accompaniment
Bereavement visits, support and counseling
Monument and inscription guidance
Unveiling guidance and officiation
"You led an absolutely beautiful and deeply moving service and your presence was a continual comfort to many, many people....An inspiration."