Nedivut Tzedek / GENEROUS JUSTICE is an empowerment program of social justice through personal finance. Through study, story-telling, action / reflection, and cultural development, we reclaim the vital Jewish wisdom of tzedakah as just-giving.


GENEROUS JUSTICE seeks out the multi-generational dialogue that is essential for learning the lessons of history. We honor tzedakah collectives, giving circles and other pooled funding efforts as we seek an even broader constituency. We provide accessibility and support beyond particular age groups or affluence levels for each participant to expand her or his personal giving capacities.
"Generous Justice is a resource for learning about Jewish philosophy as well as personal finance. It's a guide to social action and philanthropy, and a tool for spiritual growth—a breath mint and a candy mint....Because the format consists of short readings and discussion questions, I can see it working as a lively tool for book clubs and investment clubs, synagogues, families, seders with friends."

(From the review by Marjorie Ingall in Tablet Magazine)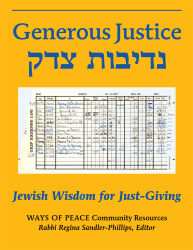 Most of us don't think of personal finance as a path to spirituality and social justice. Yet our Jewish values of tzedakah have always pointed in that direction. GENEROUS JUSTICE reclaims tzedakah as just-giving: just give, AND give justly.

Now more than ever, whatever our social values may be, our financial support is needed to realize them. We may go to the polls once or twice a year, but we vote with our money choices every day — and those votes add up to determine the state of our communities, our nation and our world.

GENEROUS JUSTICE readers join a dialogue across millennia of prophets, sages, activists and artists. Bringing together concern for the most vulnerable with concern for the planet, GENEROUS JUSTICE is a one-stop guide for more effective giving throughout the year: simple, regular, and fair.
Those in the NYC area can purchase GENEROUS JUSTICE directly from WAYS OF PEACE, without sales tax or shipping charges.
Join us for future programs, as we continue to turn the tithe!
Contact us about hosting a GENEROUS JUSTICE book program in your community. We can donate a percentage of the proceeds for each book sold to your synagogue or other non-profit organization.