Rabbah and Rabbi Zeira made a Purim feast together. They got drunk, and Rabbah rose and cut Rabbi Zeira's throat. The next day he prayed and revived him. The following year Rabbah said: Come and let us make a Purim feast together! Rabbi Zeira replied: Not on every occasion does a miracle occur. (Babylonian Talmud, Tractate Megillah 7b)
Recent decades have seen a renewal of Mussar (spiritual discipline) among Jews of diverse backgrounds — while countless Jewish addicts, family members, and friends across the denominational spectrum have found healing through the Twelve Steps of recovery.
Much can be learned from those who live by the Twelve Steps about how to apply the principles of Mussar to the challenges of daily life.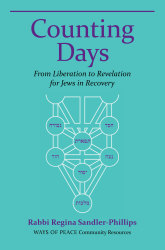 COUNTING DAYS: From Liberation to Revelation for Jews in Recovery
guides readers through the season of spiritual development between Passover and Shavuot with daily reflections on Twelve Step principles, integrated with classical Jewish teachings.
It's a resource for students of Mussar and Jewish mysticism, chaplains, spiritual directors, synagogue leaders, Jewish Family Service staff, and all who care about healing the scourge of addiction within the Jewish community and beyond.
*Those in the greater NYC area can purchase COUNTING DAYS directly from Ways of Peace, without sales tax or shipping charges.Contact us about hosting a COUNTING DAYS book program in your community! We can donate a percentage of the proceeds for each book sold to your hosting synagogue or other nonprofit organization.