"...and after the hurricane, an earthquake...and after the earthquake, a fire...and after the fire — a still, small voice." (First Kings 19:11-12)

Professor Allan Lichtman, who has correctly predicted the popular vote of every presidential election since 1984, has done so on the basis of principles derived from the study of natural disasters — especially earthquakes: "Everything we know about elections, we've already stolen from geophysics....Tremors of political change, seismic movements of the voters, volcanic elections, political earthquakes. It's all geophysics anyway."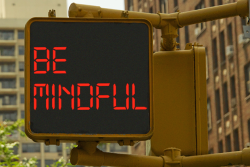 As so many of us continue to reel from the fallout of current events and their media coverage, this could actually be good news. Lichtman's perspective suggests that we turn our attention away from momentary headlines toward deeper forces, long-term transformation — and our own personal daily choices.
Today is the 92nd birthday of Thich Nhat Hanh, a Vietnamese Zen master and peace worker known to tens of thousands of followers worldwide simply as Thay (Teacher). He has weathered more than a half-century of exile, the devastation of his homeland, the murders of close friends, and countless setbacks in his continual efforts to alleviate suffering.
Throughout his life, Thich Nhat Hanh has offered a still, small voice of sanity beyond the terrors of our world. Even in his silence following a severe stroke, Thay continues to offer spiritual guidance through the ways he lives each day fully and mindfully.
What might our communities and our world look like if we spent more time listening for all the still, small voices that can guide us toward the best each of us can be? What if — beyond despair, rage, and holding our breaths for the next elections — we truly believed that Election Day is every day of our lives? LEARN MORE
In this season of change and uncertainty, may we remain mindful of all our miraculous, daily opportunities to make a world of difference.


In our commitment to just-giving, WAYS OF PEACE donates at least 10 percent of net staff compensation to other organizations that uphold our core mandates of promoting justice and kindness across lines of diversity.