"Zion will be redeemed with lawful-judgment,
and those who return to her with tzedakah / just giving." (Isaiah 1:27)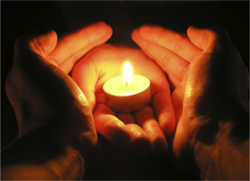 Twenty years ago this month, I returned from a five-year sojourn for social change in Israel.
WAYS OF PEACE Community Resources
was created out of that experience to focus on the timeless priorities of sustaining the poor, visiting the sick, burying the dead, and consoling the bereaved — "for these are ways of peace" across lines of conflict.
The current Israel / Gaza war has cast a long, painful shadow over this summer, as have other tragedies in the U.S. and throughout the world. And yet the principles and priorities of
WAYS OF PEACE
are as vital and life-affirming today as they have remained throughout the past two millennia. No matter how heartbreaking the situation, there are always possibilities for sharing our time and money, for bringing people together across differences to affirm our shared humanity.
5775 will be a sabbatical year in the Jewish calendar. Many will be seeking ways to bring the ancient teachings of
sh'mitah
/ release into our lives, through mindful approaches to both ecology and economy. How will you share your abundance to help repair this broken world?
Whether you seek to
leverage your financial resources
for broader social benefit, or to
connect more deeply with community
through
personal life transitions
and
public challenges
, we hope you will turn toward WAYS OF PEACE and
support us during the coming year
. All of our combined efforts help pave the paths to peace in our time, and our world needs what you have to offer.
With many blessings for the Season of Turning and beyond,
Rabbi Regina Sandler-Phillips
for
WAYS OF PEACE Community Resources