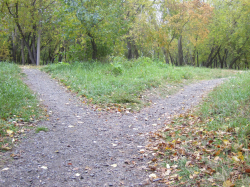 This month we are straddling two leap years in two calendars. The more familiar leap year brings an additional day of February, which happens every 4 years in the conventional calendar. The other leap year brings a doubled month of Adar, which happens every 2-3 years in the Jewish calendar.
Since Adar is traditionally a month for shaking off winter blues ("Be happy; it's Adar!"), it seems especially appropriate to extend it for two months through the current late winter. And the extension also suggests mindfulness of what it means to move from winter into spring through the cycles of our lives.
The 7th of Adar — exactly one week before the riotous celebration of Purim — is observed as the
yahrtzeit
or death anniversary of Moses. It has become customary on the 7th of Adar to acknowledge the
hevra kadisha
, the sacred Jewish burial fellowship that practices ultimate kindness in caring for the bodies of the dead.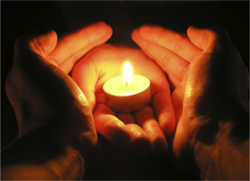 A sacred fellowship does not eliminate our questions, fears of death, or grief in the face of loss. But when the fabric of our lives is torn apart, the
hevra kadisha
helps to weave it back together. When "nothing" can be done, the
hevra kadisha
goes to work.
We step forward as a community to offer what we can: quiet presence and simple actions to accompany the dead as well as the living — helping each other to move from the winter of grief into the eventual springtime of hope and renewal. It's a tradition worth sharing
throughout the year
.
Whether your community maintains a
hevra kadisha
, is in the process of organizing one, or simply wants to grow further in the direction of kindness, please consider offering a program during this season to help move your caring efforts forward.
If you would like to bring
WAYS OF PEACE
to your community for such a program, please
contact us
. Meanwhile, for those in the greater NYC area, stay tuned for these upcoming events:
Thursday evenings March 3rd, 10th, and 17th in Brooklyn, NY

Shabbaton March 12th-13th in Beacon, NY
WAYS OF PEACE
donates at least 10 percent of net staff compensation to other organizations that uphold our core mandates of promoting justice and kindness across lines of diversity.