The approaching Jewish New Year of Trees is one of
FOUR
New Years in the traditional agricultural calendar — each with its own practical guidance for sharing whatever abundance we have. Where financial justice is concerned, it's never too early or too late to start over — in the middle!
Now is a perfect time to consider
just-giving
as a way of life in 2016. No matter how much or how little we earn, setting aside an incremental percentage throughout the year makes for more satisfying and strategic donations — instead of the usual last-minute rush to disburse whatever is left over in December.
If you'll be in the NYC area, please join WAYS OF PEACE at
NightShul
on Thursdays January 14th, 21st and 28th for
FROM SPARE CHANGE TO SOCIAL CHANGE:
A TASTE OF GENEROUS JUSTICE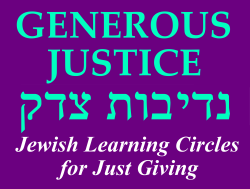 Jewish tithing, which grew out of the rhythms of the
sh'mita
(sabbatical) cycle, brings today's campaigns for economic justice back to their roots.
Generous Justice
is a new network of learning circles that launched last summer to reclaim the timeless Jewish practices of "just-giving": simple, equitable and regular.
We'll learn how we vote with our wallets for the state of our world, and how we can harness the power of our own money for social, environmental and personal transformation — no matter what we earn. Join us as we turn the tithe!
Free passes are available on a limited first come, first served basis. Contact us for details — or to bring "A Taste of Generous Justice" to your local community.WAYS OF PEACE
donates at least 10 percent of net staff compensation to other organizations that uphold our core mandates of promoting justice and kindness across lines of diversity.