WAYS OF PEACE is pleased to announce the publication of COUNTING DAYS: From Liberation to Revelation for Jews in Recovery.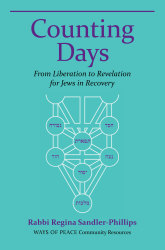 COUNTING DAYS
guides readers through the season of spiritual preparation between Passover and Shavuot with daily reflections on Twelve Step principles, integrated with classical Jewish teachings.
It's a new resource for students of Mussar (Jewish ethical discipline) and Jewish mysticism, chaplains, spiritual directors, synagogue leaders, Jewish Family Service staff, and all who care about healing the scourge of addiction within the Jewish community and beyond.
"A wonderful addition to resources for Jewish people in recovery." —Marcia Cohn Spiegel, Doctor of Jewish Communal Service
Addiction has been called the sacred disease of our time. Many spiritual traditions teach that it is human nature to be addicted in varying degrees—whether this is defined as the worship of false gods, or the suffering that comes from attachment.
While most of us may not suffer to the extremes that require medical or legal attention, the human spiritual condition of "dis-ease" is quite universal. And Jews across the denominational spectrum—from the most secular atheist to the most insular Orthodox—have found healing through the Twelve Steps of recovery from addiction, originally articulated by Alcoholics Anonymous.
Order COUNTING DAYS now to insure delivery in time for Passover!