Deep calls to deep, in the voice of Your channels.... (Psalm 42:8)
It's a memory of how we are connected across time and space, through sorrow and hope.
In the NYC disaster relief efforts following September 11th, 2001, one of the sites I served as a chaplain was the Family Assistance Center at Pier 94. At one end of that huge complex, a long open corridor was designated as the "Walk of Bears." Stuffed bears of all shapes, sizes and colors were arranged along the floor against the wall. Signs explained that they were a gift from the people of Oklahoma City, and were not to be removed.
The shipment of bears had arrived on September 19th. We learned that after the domestic terrorist attack of April 19th, 1995 on the Oklahoma City Federal Building, survivors and disaster relief workers there began to find teddy bears left on the chain-link fence. No one knew who was leaving them, but they kept showing up. Now the people of Oklahoma City had decided that it was time for the people of New York City — and Washington, D.C. and Shanksville, PA — to take comfort in these bears.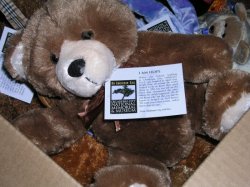 And posted across the long wall of the NYC Family Assistance Center, above the bears, were the photographs of the missing and the dead. Like the teddy bears, their faces reflected all shapes, sizes and colors — people from all over the world.
Every day, the Walk of Bears would be visited by family members and friends, law enforcement officials, support agency staff and disaster relief workers. People came to write and read messages on the wall, to meditate, to cry, to reflect, to remember, to tell and hear stories…to reach out and care.
The Walk of Bears was a refuge at a time of overwhelming pain. As we move through this anniversary of tragedies that shook our cities, our nation and our world, may we all take refuge in the memories that will help us to reach out and care for each other — day by day, over the long term.
Rabbi Regina Sandler-Phillips
for
WAYS OF PEACE Community Resources