"They may deport her," reported a disheartened accompaniment volunteer who had emerged from the building. She described how an enforcement officer had spoken harshly to an immigrant petitioner in the presence of the family's frightened and confused children. As those who had gathered outside the building surrounded the veteran volunteer in a wordless hug, she was able to find some release in tears.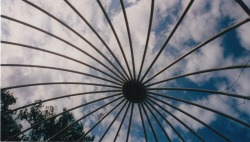 And then we began to walk.
Every Thursday for more than an hour, immigrant advocates and supporters participate in a Jericho Walk: seven silent circuits around the main ICE (Immigration and Customs Enforcement) field office and court building in lower Manhattan. After each circuit, open hands are raised toward the building and a silent prayer is offered. At the end of the seventh circuit, the prayer is recited aloud in English and Spanish. Then we raise our voices for a collective shout and scream. "For me, it's a cry of pain," shared the accompaniment volunteer after that week's culminating outcry.
Some weeks there are a few people; other weeks there are many more. Ravi Ragbir, the director of the New Sanctuary Coalition (NSC) of New York — who has walked alone as well as with hundreds who have supported his personal struggle against deportation — believes that the weekly walks are an essential component of the renewed sanctuary effort. The walks are usually led by Father Fabian Arias, an Argentinian-born priest who also "walks the walk" far beyond these weekly circuits by providing legal guardianship to dozens of young Latinx immigrants in danger of deportation.
In times of growing polarization, hatred and violence, it is tempting to view retaliation as a form of righteousness. The Jericho Walk offers a way to transform pain, despair, and rage into a recommitment to bearing witness in love and hope. Even the name "Jericho Walk" involves the transformation of an originally violent narrative into a contemporary nonviolent action — a reminder that our first step is to "Do no harm." As reflected in a parallel Buddhist commitment in Oregon, this holds interfaith implications beyond the biblical metaphor.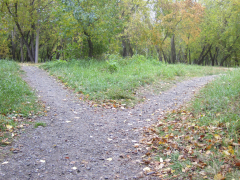 We also have daily opportunities to "walk the walk" through our financial choices — and game-changing opportunities have recently emerged around the world in this regard . RAICES, a front-line immigrant rights network on the U.S./Mexico border, politely declined a six-figure grant from Salesforce, a corporation that indirectly profits from the separation of immigrant families.
"We will not be a beneficiary of your effort to buy your way out of ethical responsibility. We ask you to commit to ending your contract with the U.S. Customs and Border Protection, and we hope that we will be able to accept your donation under these terms," wrote RAICES in a private letter that was publicized after the corporation demurred. RAICES was able to do this, in part, because of the democratic just-giving of more than a half-million people who have nearly tripled RAICES' original operating budget in less than six weeks.
As financial journalist Felix Salmon explains, "When you give to a bail fund, your money doesn't just get used to bail someone out once. It gets recycled with repayment, and used over and over again to help out the most neglected people in the justice system....A permanent bond fund, which has the resources to bail out every detained parent, and ideally every wrongfully detained immigrant, is a fantastic public good, and once it's seeded with enough money, it can operate almost indefinitely."


Across the ocean, as conditions remain untenable for tens of thousands of African asylum seekers in Israel, a coalition of immigrant advocates and supporters has launched the Kibbutz Resettlement initiative. Under the fiscal sponsorship of ATZUM-Justice Works, a veteran social justice organization, international support is sought to move vulnerable asylum-seeking families out of urban poverty into welcoming kibbutz communities.
Violence — whether verbal or physical — often springs from a sense of helplessness, and it is extremely contagious. The good news is that nonviolent action is also contagious, opening our eyes and hearts to the range of daily possibilities for hopeful, effective action in these painful times.
---

WAYS OF PEACE donates at least 10 percent of net staff compensation to other organizations that uphold our core mandates of promoting justice and kindness across lines of diversity. PLEASE SUPPORT OUR WORK TODAY!