"How to Give Jewishly—and Be Financially Smart—in the New Year"
Marjorie Ingall in Tablet Magazine, 12/30/16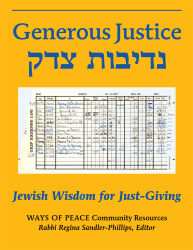 "
Generous Justice
is a resource for learning about Jewish philosophy as well as personal finance. It's a guide to social action and philanthropy, and a tool for spiritual growth—a breath mint and a candy mint. It's full of quotations about money and generosity from such diverse sources as the books of Isaiah and Deuteronomy, the writings of Maimonides, the Babylonian Talmud, the Chofetz Chayim, Suze Orman, Rabbi Jill Jacobs, and 17-year-old Hannah Salwen. Because the format consists of short readings and discussion questions, I can see it working as a lively tool for book clubs and investment clubs, synagogues, families, seders with friends."
READ MORE
---
From Spare Change to Social Change: Book Launch Party for GENEROUS JUSTICE
Sunday, January 22nd at 6:30 PM
East Midwood Jewish Center
1625 Ocean Avenue, Brooklyn, New York
Amidst all the uncertainty of this new political era, one thing is certain: whatever our social values may be, our financial support is needed to realize them. How can we mobilize our financial power most effectively, guided by Jewish values?
Join Rabbi Regina Sandler-Phillips on the eve of her father's 16th
yahrtzeit
for a "Torah-on-one-foot" taste of
GENEROUS JUSTICE: Jewish Wisdom for Just-Giving
, which is dedicated in his memory. Copies of this unique and just-published sourcebook will be available for sale and signing (without sales tax or shipping charges) after Rabbi Regina leads the brief
ma'ariv
/ evening service at 7:30 PM.
Please CONTACT US
about hosting a GENEROUS JUSTICE book launch party in your community. Depending upon arrangements, we may be able to donate a portion of the proceeds for each book sold to your hosting organization.