The recent Jewish season of "who shall live and who shall die" is a traditional time for cemetery visits — each one an improvised "Day of the Dead." This past September, in addition to visiting the graves of my own family and community members, friends and congregants, I was privileged to visit Hart Island, the largest mass burial ground in the United States. More than one million dead, most of them lost to family and forgotten by history, have been buried on Hart Island in layered trenches by prison inmates since 1869.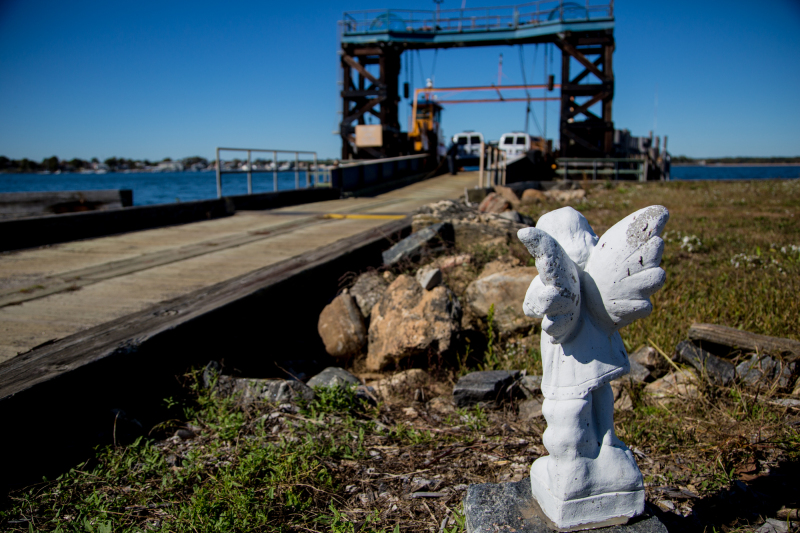 Photo Credit: Amy Pearl / WNYC (Hart Island visitors are not ordinarily permitted to take photographs)
Thanks to the long-term efforts of community activists like Melinda Hunt of the
Hart Island Project
, relatives of those buried on Hart Island are now permitted to visit once a month. I accompanied Elaine Joseph, one of the first family members to gain visitor access, as her guest. Ken Binder, a trustee of Temple Beth-El on adjacent City Island, joined us as well. City Island support is pivotal for
opening Hart Island
to families and the public, since the two islands are connected by a ferry that spans the approximate half-mile of water between them.
Gathering at the City Island dock before the ferry ride, small groups of visitors stood uncertainly apart from each other. Eventually (particularly with Elaine's encouragement), some hesitant sharing began. Family secrets, mental illness, bureaucratic mishaps, immigration disruptions, military history and lapses of veteran support, the simple lack of sufficient burial funds — a range of quietly wrenching circumstances connected family members of diverse ethnic backgrounds and generations.
Like Hart Island itself, security measures prior to ferry boarding are administered by the NYC Department of Corrections (DOC) under the supervision of Captain Thompson, a soft-spoken gentleman who accompanied us throughout our visit. As the ferry approached a faded but intimidating "PRISON — KEEP OFF" sign near the Hart Island smokestack, one of the family members visiting for the first time doubled over in sobs. I supported her and pointed out the presence of two swans, swimming near an angel statue that offered a silent welcome to the Hart Island dock. As it turned out, the swans echoed the legacy of the ancestor whose grave she was about to visit.
From the Hart Island dock, a DOC bus took each family group to the approximate area of their relative's grave. Each anonymous white marker represents a mass grave of 150 adult bodies or 1000 infant bodies. Ken and I stood with Elaine in a grassy area not far from the shoreline, where her five-day-old daughter Tomika had been buried in 1978 due to a hospital error. We could see other family members standing at a distance in other areas, with watchful DOC officers in between. Captain Thompson circulated politely with a Polaroid camera to compensate for the security prohibition of personal cell phones and cameras.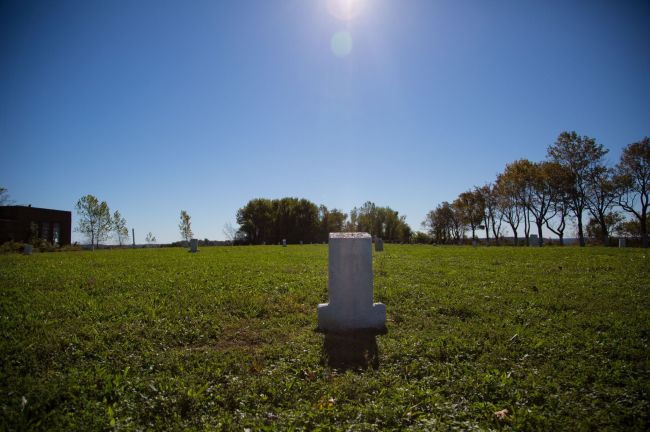 Photo Credit: Amy Pearl / WNYC (Each marker represents 150 adult bodies or 1000 infant bodies)
A cemetery for the indigent and unclaimed is known as a potter's field, referring back to the New Testament. Hart Island continues to challenge us with a tangled thicket of ethical dilemmas, from
prison conditions
through
cadaver shortages
to
land use deliberations
. A current NYC Council bill would transfer the jurisdiction of Hart Island from the DOC to the Parks Department. Several now-upscale NYC parks served as potter's fields long before Hart Island was opened for that purpose — and
Potters Fields Park
in London is quite cheerful about its parallel origins.
Since ancient times, the imperatives of honoring the dead have served as vital "ways of peace" across lines of diversity. May the coming year bring an expansion of our ways of peace to support all those whose lives are bound up with the forgotten dead. And since "who shall live and who shall die" ultimately includes all of us, may we affirm our common humanity — as we muster the loving courage to plan for the return of our own bodies to the earth we share.