"May all our work be for the blessing of the future of Israel, and of humanity."

— From a Theresienstadt sermon by Rabbi Regina Jonas (1902-1944)

70 years ago, toward the end of 1944, the first woman ever to be ordained rabbi perished in Auschwitz at the age of 42. As a chaplain and educator, she had offered inspiration and solace to many, especially the elderly. Throughout Nazi Germany and in the Theresienstadt concentration camp, she had worked tirelessly to affirm human dignity at the end of life.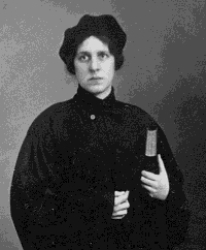 Rabbi Regina Jonas at the Jewish Senior
Home in Rosenberg, Germany (1936)
And for nearly half a century afterward, her legacy was almost entirely forgotten.
I was named for my immigrant great-grandmother Regina Sandler
z"l
(of blessed memory). During the summer of 1978, in a book by Rabbi Sally Priesand — the first Jewish woman ordained in the U.S. — I discovered a few brief paragraphs about Rabbi Regina Jonas
z"l
.
Across continents and generations,
here was a foremother
with whom I shared not only my first name, but also my chaplaincy concerns and rabbinical aspirations. It seemed
bashert
(Yiddish for "meant to be").
In May 1999 — the same month that an international conference honored Rabbi Jonas in her native Berlin — I invoked her at my own ordination in New York. I spoke about two Reginas, both of whose legacies I bore, and in whose name I stood.


Today,

WAYS OF PEACE Community Resources
honors the chaplaincy and education legacy of Rabbi Regina Jonas
z"l
in all of our
services and programs
. We foster the dialogue between generations that is essential for learning the lessons of history.
During this Festival of Lights, please light one candle for Rabbi Regina Jonas
z"l
— and consider a year-end
donation to WAYS OF PEACE
.
Hanukkah means "Re/Dedication." May we rededicate ourselves through our celebrations to seek justice, pursue peace, and turn toward each other with greater kindness — now, while we're alive and free; now, while we still remember.