"Let them make for Me a sanctuary,
and I will dwell in their midst." — Exodus 25:8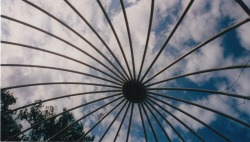 The word "sanctuary" carries a range of meanings, from worship hall to wildlife preserve and beyond. In recent weeks, the word has taken on added urgency as American cities and communities organize to renew a sanctuary movement on behalf of refugees and immigrants.

A sanctuary is a place that is both safe and sacred. Safety is a core human need, and the ultimate challenge is how to expand our sanctuaries for the widest possible inclusion of those among us.

Those in the Capital District of New York are invited to join us in March for a weekend of special programs that begin to address this challenge.


MAKING A SANCTUARY:

We are taught that the world stands on a tripod of study, worship, and caring actions. When our communities run on the two legs of study and worship, the third leg of caring is often shortened. Yet the third leg is the only one that can support us "on one foot." Come explore a new equilibrium that balances kindness and justice, as we make sanctuaries for these challenging times. LEARN MORE