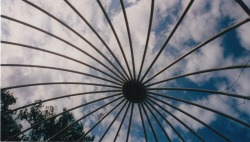 The Jewish Day of Atonement has ended — but the Book of Life is still open. "May it ultimately be sealed for the good!" is an appropriate traditional greeting through the end of this festival of Sukkot (Tabernacles), as the season of
teshuvah
(re/turning, repentance) continues.
The ancient sage Rabbi Eliezer went further in declaring that the best day to re/turn in
teshuvah
is "one day before your death" — in other words, every day of our lives. Here are some upcoming programs from WAYS OF PEACE for our ongoing seasons of turning.
Thursdays, October 15 / 22 / 29 at

NightShul

in Brooklyn, NY
What is Jewish forgiveness? Is it unconditional? Is it required? Is it all-or-nothing? We'll explore how key sacred texts relate to our own lives in this introduction to one of the most vital — and least understood — of Jewish concerns. Come encounter a surprising biblical forgiveness hero, discover how our High Holy Day liturgy translates into accessible everyday choices, and experiment with some classic Jewish forgiveness rituals.
LEARN MORE
A Funeral Planning Cabaret / Tuesday, October 27 at 7:30 pm in Brooklyn, NY
This unique seminar-in-song offers a non-sectarian, ecologically-minded introduction to advance directives, consumer choices and your next steps in a relaxed environment. Free and open to all!
LEARN MORE
(Not in or near Brooklyn, NY? If you'd like to bring these or other

WAYS OF PEACE programs

to your community, we'd love to hear from you.)
With many blessings for the seasons ahead,
Rabbi Regina Sandler-Phillips
for
WAYS OF PEACE Community Resources

WAYS OF PEACE donates at least 10 percent of net staff compensation to other organizations that uphold our core mandates of promoting justice and kindness across lines of diversity.