It's coming. Not just the intensive cleaning, shopping and cooking, but that annual money milestone we call Tax Day.

As IRS deadlines loom over our Passover preparations, the words of the prophet Malachi will ring out in Jewish communities throughout the world. On the "Great Sabbath" before the festival, Malachi dares us to stretch beyond occasional donations toward ongoing distributive justice:

"Bring the entire tithe into the storehouse, that there be food in My house, and so test Me in this" — said the Eternal-One of all-forces — "if I will not open the gates of heaven and pour upon you blessing without limit."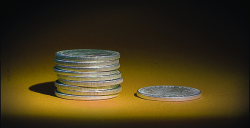 We don't need a belief in God to face this test as a social justice challenge. A tithe is a giving rate — a percentage of income that most of us don't consciously document. But year after year, our tax returns show that
giving rates generally shrink as incomes and affluence increase.
That uncomfortable truth should concern anyone preparing to say:
"Let all who are hungry come and eat."

As our Haggadah also reminds us, "This year we are still slaves." Now more than ever, we need to vote with the power of our own wallets against widening income inequality, which enslaves all of us.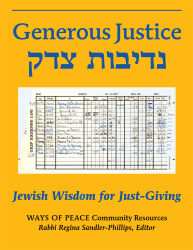 How will this Passover be different from other Passovers? Try bringing
Generous Justice: Jewish Wisdom for Just-Giving
to your seder table questions. As
recommended in Tablet Magazine
, it's "a lively tool for book clubs and investment clubs, synagogues, families, seders with friends."

Order Generous Justice now to insure delivery in time for the holiday! (OK, those in the NYC area have a bit more time. You can purchase Generous Justice directly from Ways of Peace, without sales tax or shipping charges.)

---
Plan ahead for revelation! Complete your holiday preparations with
Counting Days
, a unique guide for each day between Passover and Shavu'ot that integrates Mussar (Jewish ethical development) with contemporary principles of spiritual recovery.

Counting Days is also available by mail order or by direct purchase from Ways of Peace.